Potluck!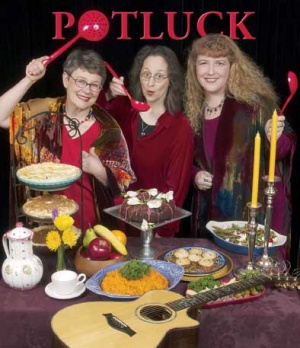 To be held on December 12th 2009 at 5:30 in an undisclosed location
Justin (+1) will bring truffle shallot mashed potatoes and mushroom garlic gravy (vegan)
Eric (+1) will bring veggie chili and a ton of booze we all kicked in on

Sara may make some cookies
I will bring two camping chairs and a card table

Alicia will bring sugar cookies
Charles will bring buffalo chicken dip. He eats meat.
Ryan (+1) will bring a turducken and meat dressing (and a deep-fried turkey if the head count is right)
Liz (+1) will bring Christmas cookies
Shelby (+1?) will bring home made mac&cheese. Anyone opposed to dijon mustard in it?
Raphael (+2) will bring baked sweet potatoes.
Devon (+1) Will bring a meat bearing entrée
Bill (+1) Will bring some sort of side dish that he did not make, because he cannot make side dishes yet. (*** ANY REQUESTS? ***)
Jess will bring a pumpkin pie.
Zach has said he will come and bring something tasty
Adam will be coming and bringing, um... cookies? and maybe some cup of noodle?
Chris (+1) will be there , bringing dip + desert
Adam and pip have a ton of beer at our house (3 6-packs) but don't drink it, so we'll bring it!
Shopping list
[
edit
]
Assuming 15-20 people
Beer

3 growlers (5 pints each) and various bottles assorted craft beers from bierkraft. If you have any preferences, speak up :)
$100

wine

a few bottles of assorted wines (I usually opt for malbec and reisling, let me know if you have preferences)
$60

liquor

bacardi rum
vodka
$40
mixers (coke, sprite, seltzer, oj, cranberry, mint, limes, lemons)
$25

munchies

2 veggie platters from trader joes
2 fruit platters
$60
---
$285